VALENTINE'S DAY: TOP APHRODISIACS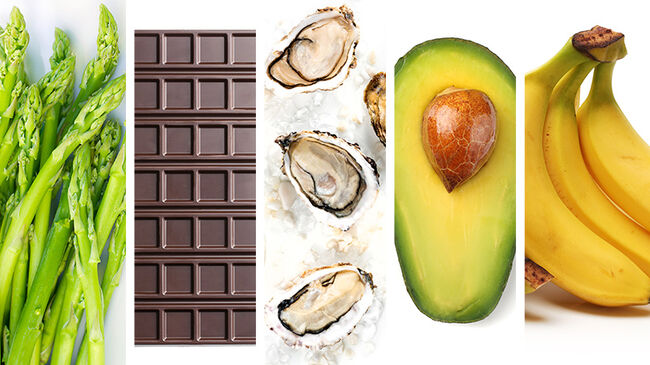 Happy Valentine's Day!
We've all heard of aphrodisiacs...ya know, foods that are supposed to get you in the mood if you eat them.
Here are the foods you should eat for a little boost in the bedroom:
Asparagus: Was believed by a 17th century herbalist to stir up lust, it's also full of Vitamin E
Avocado: Banned by early Catholic clerics because it symbolized male fertility. It is a healthy food, but this one won't directly benefit you in the bedroom. (But eating healthy will.)
Bananas: Full of potassium and Vitamin B, which is essential for sex hormones. Also an ancient male fertility symbol. (The Greeks based their fertility symbols on how the food was shaped. Sometimes a banana isn't just a banana.)
Dark Chocolate: Releases dopamine in the brain and actually stimulates its pleasure center.
Figs: This was a symbol of female fertility. It's also packed with about 1/3 your potassium requirement for the day. Which is essential for the sex hormones.
Garlic & hot peppers: Increases your heart rate and gets blood pumping, which mimics the sexual response.
Oysters: A legendary aphrodisiac, oysters were an ancient female fertility symbol. The zinc in oysters is believed to help increase your libido. One cooking tip: Add hot peppers or Tabasco sauce to the oysters for extra passion punch.
Source: RD.com photo credit - getty images

Lisa Berigan
Want to know more about Lisa Berigan? Get their official bio, social pages & articles on BIG 100!
Read more