NEIL YOUNG: LOSES HOME IN WILDFIRES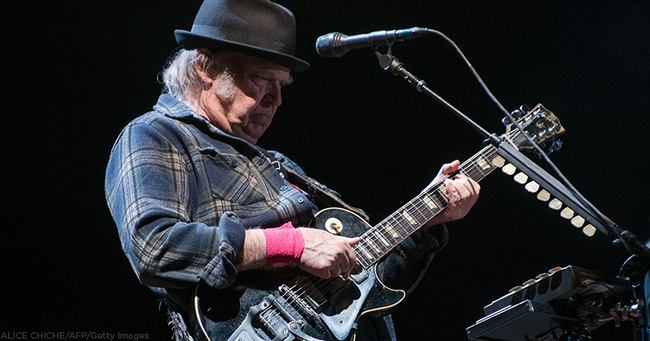 Neil Young and wife Daryl Hannah lost their Malibu home in California's Woolsey fire.
In a post on his Archives website, Young angrily blasted Donald Trump for his tweet blaming California's forest management for the fires and for his continuing climate change denial.
Young writes: "California is vulnerable — not because of poor forest management as DT (our so-called president) would have us think. As a matter of fact this is not a forest fire that rages on as I write this. We are vulnerable because of Climate Change; the extreme weather events and our extended drought is part of it."
Calling Trump a "Denier," Young says that it may be time for a "reckoning" with "this unfit leader." He says the state, "a paradise for us all," is not to blame for its inability to defend itself against "Mother Nature's wrath." He points out that, "Fire fighters have never seen anything like this in their lives. I have heard that said countless times in the past two days, and I have lost my home before to a California fire, now another."
Turning back to Trump, Young asks people to "Imagine a leader who defies science, saying these solutions shouldn't be part of his decision-making on our behalf. Imagine a leader who cares more for his own, convenient opinion then he does for the people he leaves. Imagine an unfit leader. Now imagine a fit one."
Young, who has another home in Northern California, isn't the only musician to lose a house, nor the only one to blast Trump, this weekend.
Pop/R-and-B singer Robin Thicke and former David Bowie piano player Mike Garson both lost their homes in the blaze. Musicians who responded to the president's tweets include Rod Stewart, Axl Rose, Tommy Lee, Sebastian Bach, Lady Gaga, John Legend and Katy Perry.
Stewart tweeted: "Mr. President, while people's homes are burning, while lives are being lost and while firefighters are risking their lives, California needs words of support and encouragement, not threats or finger pointing and accusations. Where is Winston Churchill when you need him?"
Rose also took to twitter, writing, "Um...actually...it's a lack of federal funding that's at the 'root' of the purported forest mismanagement. Only a demented n' truly pathetic individual would twist that around n' use a tragedy to once again misrepresent facts for attempted public/political gain at other's expense"
Lee asked, "Can you be any more insensitive?," then called the president an expletive. Bach was also scathing in his criticism, blasting both the president and those who voted for him. Perry called Trump's tweet an "absolutely heartless response. There aren't even politics involved. Just good American families losing their homes as you tweet, evacuating into shelters."
Legend tweeted, "Our National Embarrassment can't bring himself to show some empathy to Californians dealing with a horrific disaster."
Source: CNN

Lisa Berigan
Want to know more about Lisa Berigan? Get their official bio, social pages & articles on BIG 100!
Read more