FLEETWOOD MAC: STEVIE FORCED LINDSEY OUT OF BAND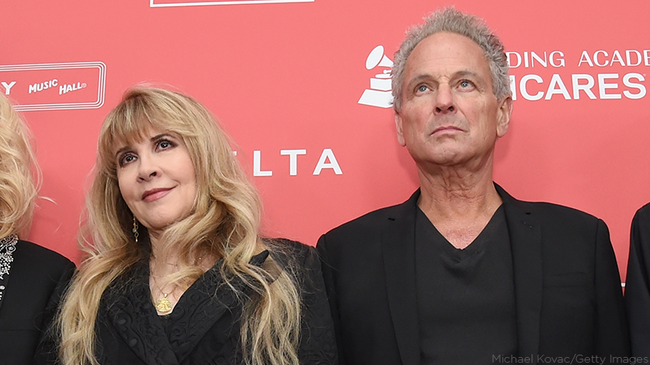 Lindsey Buckingham says his old girlfriend, Stevie Nicks, was responsible for his being booted from Fleetwood Mac.
Buckingham tells Rolling Stone that band manager Irving Azoff called him last January, two nights after the band had performed at the MusiCares benefit, to say, "Stevie never wants to be on a stage with you again" because he reportedly disrespected her at the event, even smirking during her speech.
Buckingham hung up thinking she was quitting and sent an E-mail to Mick Fleetwood to say he felt the group could continue without her. When he didn't hear back he called Azoff, who told him he was being "ousted" after Stevie gave the rest of the band "an ultimatum: Either you go or she's gonna go."
He adds that he had no problem with doing the band's current tour, which was cited by the band as a reason for them cutting ties, but acknowledges he wanted to delay it a few months to do some solo shows.
"I don't think there was ever anything that was just cause to be fired. We have all done things that were not constructive. All of us have worn on each other's psyches at times. That's the history of the group... Am I heartbroken about not doing another tour with Fleetwood Mac? No, because I can see that there are many other areas to look into. The one thing that does bother me and breaks my heart is we spent 43 years always finding a way to rise above our personal differences and our difficulties to pursue and articulate a higher truth. That is our legacy. That is what the songs are about. This is not the way you end something like this."
He has reached out to Stevie and a second time to Mick, but has not heard back from either. Nor has he heard from Christine McVie, who he did an album with in 2017, or John McVie, who's his next door neighbor in Los Angeles.
Buckingham has a new album in the can, tentatively titled Blue Light, but for now he's on the road in support of his new release, Solo Anthology, with stops in L.A. Friday and San Diego on Saturday.
This is not Lindsey's first split from the Mac, and he says never say never when asked if he could see himself back in the lineup, but he's "not planning that anything will change from what it is now."
It says a lot about his talents that the Mac had to turn to both Neil Finn and Mike Campbell to take his place on the tour.
Source: Rolling Stone photo credit - getty images

Lisa Berigan
Want to know more about Lisa Berigan? Get their official bio, social pages & articles on BIG 100!
Read more