Are These FIVE FINGER DEATH PUNCH'S 10 Best Songs?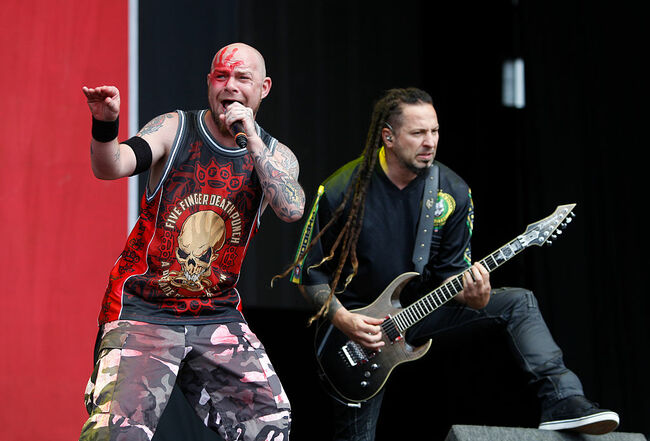 The end of the year brings critics' Top 10 lists. And in that spirit, Zoltan Bathory picked Five Finger Death Punch's 10 best songs for Metal Hammer.
The guitarist didn't put them in any specific order, and mentioned a bit about each track:
"The Bleeding" -- "This was the song that opened the door for us. People told us that a band with a stupid name like Five Finger Death Punch playing this kind of heavy music would never be on the radio, but this song got on the radio and it became a Top 10 hit."
"The Way of the Fist" -- "The percussive guitar playing -- the way we play songs -- it was different to the time, and it established a sound that now belongs to Five Finger Death Punch."
"Under and Over It" -- "It's my favorite song to play live. It has the right beat, the right groove, the right everything for a live performance."
"Wrong Side of Heaven" -- "I had this riff for a long, long time. I didn't know what to do with it, but it came together and it became a very important song."
"Burn Mother[bleeper]" -- "Obviously it's a pretty angry song, and another one that I really like because of the performance."
"The Tragic Truth" -- "I really really like this song, it's very personal to Ivan [Moody]."
"Lift Me Up" -- "It was the song where we had Rob Halford sing, which was an amazing and surreal moment for us. It was a historic moment for the band and in our lives, this is Rob Halford singing on a Five Finger Death Punch song. He always checks in on us, he always sends messages to see if we're okay, he's an amazing guy."
"Coming Down" -- "This is more than just a song, it was an outreach and it's always going to be relevant. There are so many people who are bullied, mistreated, suffering emotionally and mentally. Some of them want out and they're contemplating possible suicide and some of them do kill themselves -- this is an incredibly large problem... This song was an outreach, so many times you can save somebody's life by being kind."
"Jekyll And Hyde" -- "This has a different tuning to other songs. I feel like it is a bit of a departure, but it fits in the repertoire."
"Bad Company" -- "Even though it's a cover, this song is very important to us... We have a massive military fanbase, and this became their anthem. I hear all the time from military guys and veterans that this is the song they wake up to or the song they listen to before they go out and risk their lives. It became bigger than us."

Bodhi
Want to know more about Bodhi? Get their official bio, social pages & articles on BIG 100!
Read more