A7X, STONE SOUR, IRON MAIDEN: Big Winners at Loudwire Awards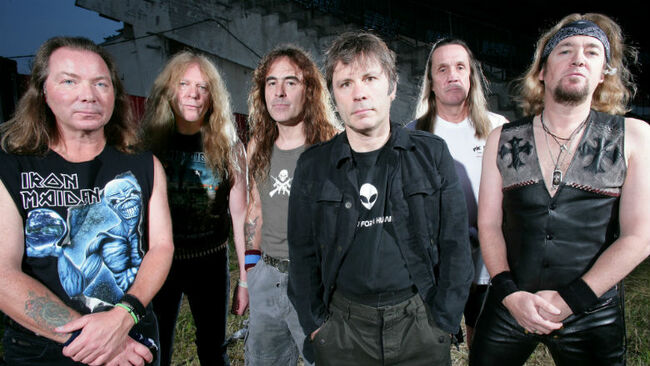 Avenged Sevenfold won Metal Band and Metal Album of the Year, and performed the closing set at last night's (Tuesday) Loudwire Music Awards at the Novo Theater in L.A.
Stone Sour and Iron Maiden were the only other artists to win two awards. Stone Sour were named Hard Rock Artist of the Year and took home Hard Rock Album of the Year for Hydrograd. Iron Maiden were named Best Live Band, and bassist Steve Harris won Best Bassist.
Legendary rockers Tony Iommi, Rob Halford and Sammy Hagar were all on hand to take home special awards.
Iommi received the Courage Award

for his fight against cancer. In his acceptance speech, the Black Sabbath

guitarist talked about having his hand cast to make the award show's "Hand of Doom" trophy that all the winners received. Best Guitarist

winner Zakk Wyldepresented the award.
Judas Priest singer Rob Halford won the Lemmy Award, named after the late Motorhead singer and bassist, and given for embodying the rock and roll spirit throughout one's career. He also made a guest appearance on the show's opening number, In This Moment's "Black Wedding," a duet with their singer, Maria Brink that also appears on that band's album Rituals.
Former Van Halen singer Sammy Hagar received the Humanitarian Award from his Chickenfoot bandmate and Red Hot Chili Peppers drummer Chad Smith. In his speech, he described how he got hooked on philanthropy after spending a day visiting a childhood cancer patient for the Make a Wish Foundation.
Musicians we lost during this year were honored at a number of points in the three-hour show, which aired live on AXS-TV. In addition to an in memoriam segment introduced by Wendy Dio and Rita Haney, the widows of Ronnie James Dio and Dimebag Darrell Abbott, Chester Bennington of Linkin Park posthumously won the award for Best Vocalist and Halestorm performed Soundgarden's "Fell on Black Days" in honor of late singer Chris Cornell.
Halestorm frontwoman Lzzy Hale provided the evening's emotional highlight in her speech presenting Best Vocalist to Bennington, when she pleaded for an end to cyber-bullying. "It's 2017, we end this [crap] now. Life is [effing] hard. It is. And all of us have terrible beasts and demons and vices that we battle daily. And as humans we have a responsibility to everybody, to each other to lift each other up. We are in this fight together."
Hale also provided a showcase for the rock and roll women on hand to come together. For Halestorm's second song, a cover of The Runaways' "Cherry Bomb," she was joined by that band's guitarist, Lita Ford, with about a half dozen of other female rockers providing backing vocals.The evening's other performers were Nothing More, Anthrax, Power Trip, Starset and Body Count, who were joined by Dave Mustaine of Megadeth on "Civil War." Each performer did two songs with the exception of Avenged Sevenfold's closing set, which saw them play "The Stage," "Nightmare," "God Damn" and "Hail to the King."
Complete Awards List:
Metal Artist of the Year - Avenged Sevenfold
Hard Rock Artist of the Year - Stone Sour
Most Dedicated Fans - Babymetal
Best New Artist - Greta Van Fleet
Best Drummer - Mario Duplantier of Gojira
Best Vocalist - Chester Bennington of Linkin Park
Metal Album of the Year - Avenged Sevenfold - The Stage
Hard Rock Album of the Year - Stone Sour - Hydrograd
Best Live Band - Iron Maiden
Metal Song of the Year - Power Trip - "Executioner's Song (Swing of the Axe)"
Hard Rock Song of the Year - I Prevail - "Alone"
Best Bassist - Steve Harris of Iron Maiden
Breakthrough Band - Beartooth
Best Guitarist - Zakk Wylde of Ozzy Osbourne and Black Label Society
Special Awards:
Humanitarian Award - Sammy Hagar
Lemmy Award - Rob Halford
Courage Award - Tony Iommi of Black Sabbath

Bodhi
Want to know more about Bodhi? Get their official bio, social pages & articles on BIG 100!
Read more