49er Coach Jim Harbaugh does push-ups with Siku the walrus !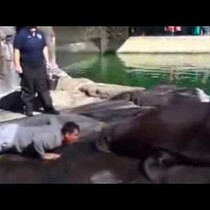 Posted March 20th, 2014 @ 1:49am
What would a visit to Six Flags Discovery Kingdom be without a little workout? And who better to demonstrate the ultimate push-up technique to none other than San Francisco 49er head coach Jim Harbaugh? That would be Siku, one of our female Pacific walruses. She's got game.